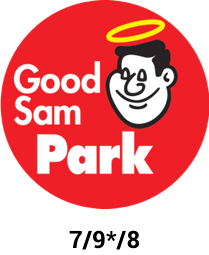 You'll Love Us! Our Good Sam Rating is 7/9*/8
Your Pet-Friendly, Family-Friendly Gateway to Adventure
Clean, Affordable, and Excellent Good Sam Rating
Older than history!  The badlands, multi-hued mesas, and fossils of the Painted Desert and Petrified Forest National Park were already 200 million years old when the Navajo People first settled the region. Bring your family to visit this awe-inspiring place.  You'll never forget it! We are the most convenient jumping-off point for your journey back in time.
Get Your Kicks on Route 66
Midway between the Navajo Nation and the Fort Apache Indian Reservation on I-40 lies Holbrook – the home of OK RV Park and the friendliest folks you'll ever find. Hike or bike the trails in Petrified Forest National Park, play golf at Hidden Cove, swim at the city pools, marvel at the world's best-preserved meteor crater, and shop at some the quirkiest places ever.  Oh…modern I-40 preserves and follows historic Route 66.  Now you know!

"Lovely park. Very clean. Nice folks. Great value!"
"This RV Park is a clean and well managed park. It is ideal for stopping for a night, or to visit the nearby national park. Holbrook is also an iconic town on Route 66 with a lot to see. The town has lots of food options and a grocery store. The sites are level gravel sites with 30A, water and sewer. The bathrooms, showers, and laundry facilities are clean and well kept. The staff is friendly and helpful. We would stay here again. We felt safe during our stay."
"Nice, hidden gem in the middle of nowhere. Staff are very friendly, and welcoming. Lots are clean, spacious and easy access. Muffins and Coffee in the mornings. Close to dining and Walmart if needed. Nice amenities as well. Clubhouse and laundry. Highly Recommend."
"This is the BEST managed park I have seen in years of traveling across the country. Rates are awesome, restrooms are pristine, and it is located close to I-40 yet the park remains quiet. The women managing the park operations are organized and very efficient. If I ever need a place to park in Holbrook again OK RV Park will be my choice!"